If I could comment on the May issue of the Baystrings, I would say that these great people helped change my life in ways that got me to this point and it all started with Joe Paviglianti. I was sitting home alone a lot and found a copy of the Tri-City free newspaper, called about the Jam and was kindly given directions and quickly put on stage by Joe.
I was running out of options, having done heavy construction for 36 years, because my body felt like an old rusty truck run hard then left in the field. I have to say I had thoughts of giving up as I watched a 90-year-old dancing to Fiddle music.
I truly miss the members of my family from this generation who are all gone and having been a fledgling musician since the '70s, I have never encountered this level of generosity and kindness. As you might know us Rock and Rollers from the '60s are a little spoiled and self-obsessed.
I made more great friends like Big John and Don Amick, and Larry Sadler invited me to come and play at The Masonic Home in Union City. I started going up there and am now on a first-name basis with about 200 more of the Greatest Generation. As I regularly visit my friends in the hospital wing of the home I feel as close as I have ever been to understanding God's will for me. I thought I was doing them a favor and words cannot express what they have done for me.
Oh Yeah, then I met Ruth…
Tom Pierson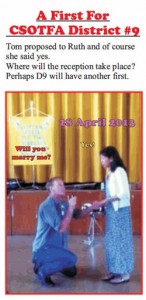 From the May 2013 newsletter
"Tom proposed to Ruth, and of course she said yes."
And yes, it happened right here at the District 9 jam, folks! Come on out and join us! You never know what adventures await…